Predator Sonic Repel Battery
Spend

$99.00

to

FREE SHIPPING
Fast shipping across Canada - Free over 99$
All products are safe for domestic use
Approuved by the Government of Canada
Fully Canadian Owned Business
Support canadian businesses
Portable - perfect for sheds or covered outbuildings
Coverage: 232 m2 (2500 sq.ft.)

How to Use

Once powered on, two one-second ultrasonic siren bursts are emitted from the front speakers every three minutes. Each burst is at 40 kHZ (+/- 10 kHZ), a frequency range that is audible to rodents (rats, mice, squirrels) and other pests, but inaudible to humans, cats, dogs and birds.

These ultrasonic bursts are emitted at a powerful 120 dB level, loud enough to be a discomfort to unwanted rodent visitors, and discourage them from staying within earshot of your new ultrasonic rodent repeller.

Because this product is battery operated and does not require a plug, you can place it where you need it, aiming the ultrasonic sirens specifically at problem areas. You can move the unit from place to place as often as you like, and as needed.

Where to Use

Indoors only: Your ultrasonic device should be used in rooms where signs of mouse or rat activity are observed.  Placement of the device is important. Ultrasonic waves travel in a straight line and bounce off non-absorbing materials to fill a room. Hard surfaces such as walls, doors, appliances, etc. will reflect the ultrasonic waves.
Hey Canadian shoppers - here at PestSupplyCanada.ca, we hear your plea.

We would love to offer free shipping all across the country, but shipping costs are crazy expensive here in Canada.

The silver lining is that if you order more than 99$ worth of products from us - you qualify for free shipping!

From Newfoundland to British Columbia, we ship across Canada.

We also offer a competitive 60 return policy.
View full details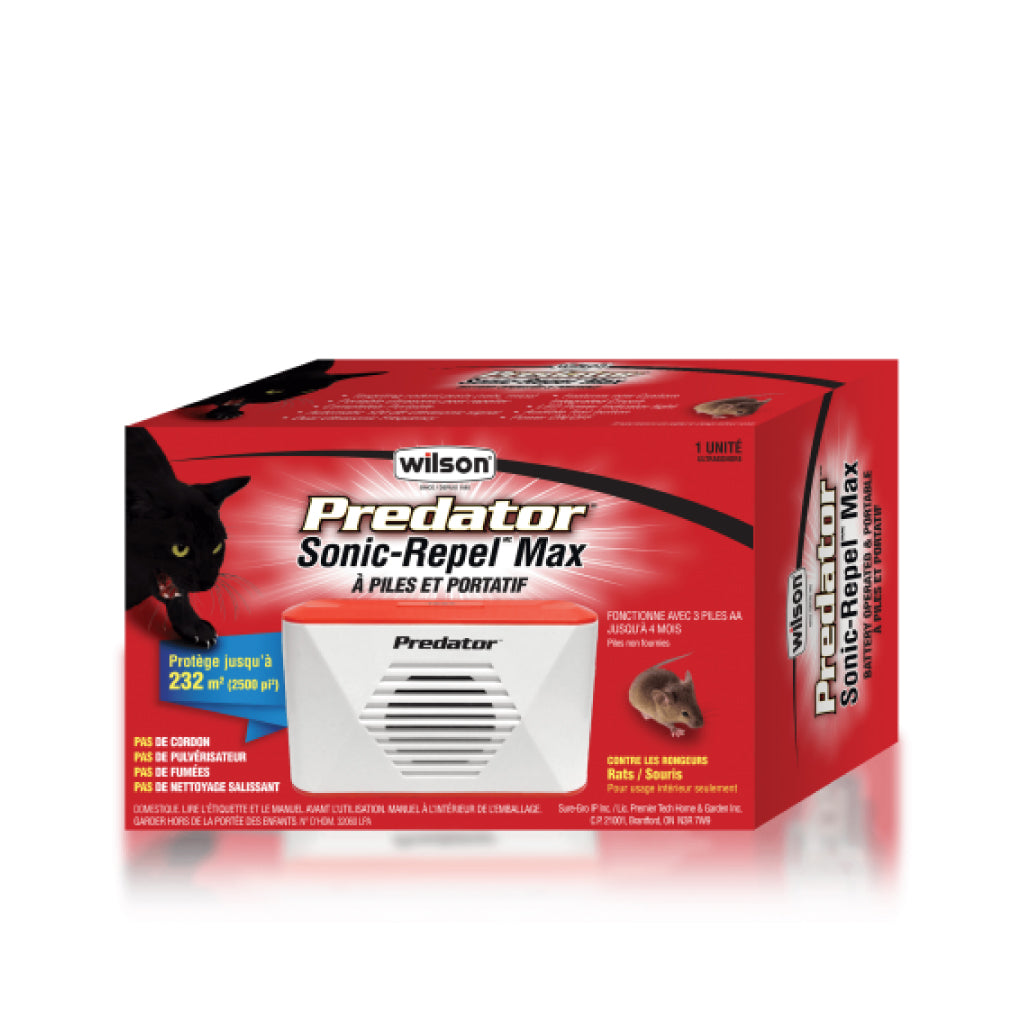 Predator Sonic Repel Battery