Victor Clean Kill Tunnel Mouse Trap 3pk
Spend

$99.00

to

FREE SHIPPING
Fast shipping across Canada - Free over 99$
All products are safe for domestic use
Approuved by the Government of Canada
Fully Canadian Owned Business
Support canadian businesses
Kill-Gate: Perfectly placed for a quick, humane Clean-Kill
No-see, no-touch tunnel design
No chemicals or poisons, can be used around children and pets
Trap is reusable or disposable
Kill-Gate ensures perfect placement for a quick, humane kill
Tunnel trap for hidden, discreet killing and no-touch disposal
Narrow profile for easy placement in small spaces
Bait door offers easy access to large bait trough
Back-end bait trough and unique tunnel design prevents bait theft
Setting instructions conveniently printed on trap
For indoor/outdoor use

Description

The Victor Clean-Kill Mouse Trap is designed to look like a tunnel and is perfect for a no-see, no-touch experience. The bait trough provided is located on the back of the trap, so no chance of bait theft is possible. An ease-of-use experience is made stress-free with the setting instructions printed directly on the trap. Once the mouse enters the trap to retrieve the bait, the Kill-Gate enables perfect placement for a quick, humane Clean-Kill.

An Inconspicuous Kill

Not as cute as a sneaky barn cat, though equally effective, this Victor Clean-Kill Mouse Trap takes care of unwanted mice fast. The mouse trap provides easy baiting and setting, and unlike other rodent traps, it features a covered design that blocks the view of everything unpleasant. From beginning to end, there's no need to see the carnage—just hold the covered mouse trap over the trash and lift the top lever. Done.

Innovative Tunnel Design

The Victor Clean-Kill mouse trap's bait door offers stress-free baiting, while its clever tunnel design looks innocent enough to unsuspecting mice. Once inside, however, the mouse is perfectly placed for the Kill-Gate mechanism, which delivers a quick, clean, humane kill. Having the bait trough at the end of the tunnel not only means swift and sudden death to rodents, but it also means there's zero chance of the trap becoming a come-and-go snack bar.

Toss or Re-Use

Made of durable plastic, the Clean-Kill covered mouse trap can be used again and again—or thrown away after the first use, whichever you prefer. To dispose of a dead mouse when re-using the trap, simply press down on the setting button, and pull up on the Kill Gate—look away if you must. Add more bait, re-set, and it's ready to go.

Simple to Set Up

After filling the bait trough and closing the door, pull up on the Kill-Gate while pressing down on the setting button. Voila. The covered mouse trap is set. Now you can place it anywhere you've seen rodents running around. For exceptionally effective coverage, place two mouse traps back to back and flush against the wall lengthwise, with openings facing out. Mice like to travel along the wall, so this way you have them from either direction.

The covered rodent trap also provides a narrow profile, which means easy placement behind a stove, refrigerator or other small, out-of-the-way space. Use the Clean-Kill covered mouse trap indoors or out. Since it doesn't use any chemicals or poisons, it can even be safely used in homes with children or pets.

Simple & Easy Setup

Step-by-step setting instructions are conveniently printed right on the Clean-Kill tunnel mouse trap. Here's how to use it:

Open the bait door found on the back end of the trap.
Add peanut butter or another high-protein bait to the trough (use a Q-tip, toothpick, or plastic utensil to avoid leaving your scent).
Close the bait door.
Press the setting button down while lifting the Kill-Gate up to set the trap.
Place the trap against the wall or in another high-activity location (2 traps back-to-back along the wall is extremely effective).
Dispose of the dead rodent and re-use the trap (or toss it).
Hey Canadian shoppers - here at PestSupplyCanada.ca, we hear your plea.

We would love to offer free shipping all across the country, but shipping costs are crazy expensive here in Canada.

The silver lining is that if you order more than 99$ worth of products from us - you qualify for free shipping!

From Newfoundland to British Columbia, we ship across Canada.

We also offer a competitive 60 return policy.
View full details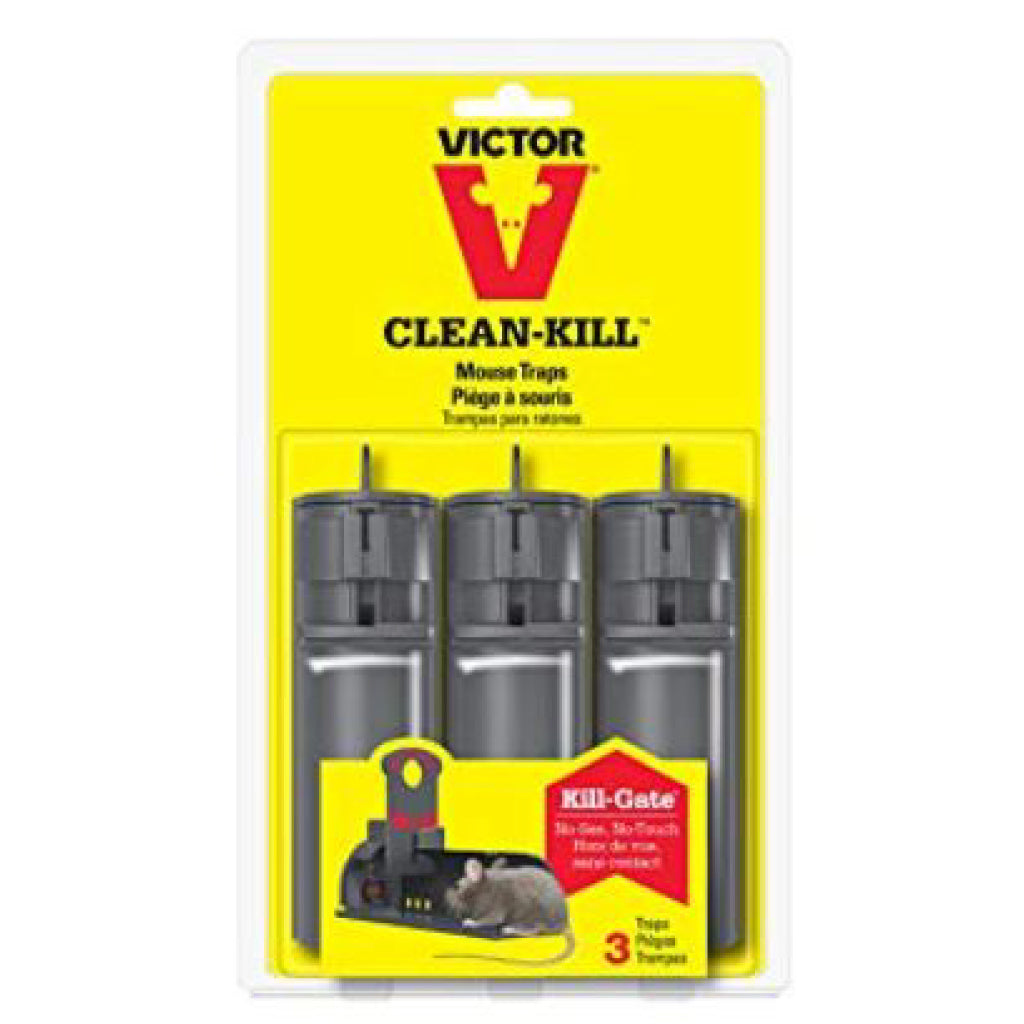 Victor Clean Kill Tunnel Mouse Trap 3pk