Squirrel Trap Canada: Effective Squirrel Traps in Canada
Squirrels usually spend their time in trees but on occasion, they will invade your home and chew through your PVC pipes, insulation, wood framing, and electrical wiring. Although you can use a squirrel deterrent, the situation may sometimes call for more extreme measures like trapping them.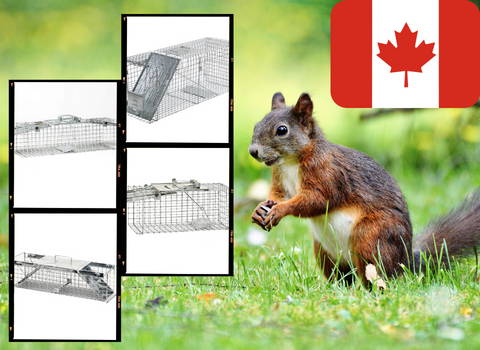 Types of Traps You Can Use for Squirrels
Squirrel traps are a humane way of removing them. You can use wire cages with spring-loaded doors that slam shut when squirrels enter. Lethal traps that instantly kill squirrels by snapping their necks with spring-loaded metal bars are also available. In this article, we will share the types of squirrel traps that you can use to get rid of these pests.
Tube traps are lethal traps with cylindrical metal tubes measuring about 5" in diameter and 15" long. In the middle of this tube is a hook for holding bait. The hook attaches to spring-loaded bars.
When the animal snatches the bait, this bar will snap forward into the metal tube. The force breaks the neck of the squirrel and kills it instantly. Tube traps have a tube enclosure, preventing larger animals like dogs and cats from entering the trap.
If you do not want to kill the squirrel, you can use box traps instead of tube traps. Box traps are small metal cages with a spring-loaded door attached to a plate within the cage. It is the most humane method of trapping squirrels. Bait is placed on the plate. The spring is triggered when squirrels enter the cage and apply force to the plate. This causes the door to snap shut, trapping the animal inside the cage.
Flat snap traps are designed for trapping rats, but you can also use them to get rid of squirrels. These traps have powerful springs that will snap the metal bar close when the animal takes the bait. The bar will break the neck of the squirrel and kill it immediately.
Cage traps can capture birds and other animals when set on the ground. So, if you do not want to use cage traps, you can go for this option. This trap is effective, but it is the least humane method of eliminating squirrels. You should set the trap carefully since it is powerful enough to break your fingers. That is also why you should never use it around pets or children.
The Best Squirrel Traps from PestSupplyCanada.ca
There are many kinds of squirrel traps out there, and their average rating value depends on their efficiency in catching these pests. And perhaps you have checked their average rating to find the best squirrel trap. To make it easier for you, we have compiled some of the best traps that you can use to catch squirrels and other similar-size nuisance animals.
Havahart Easy Set One Spring Door Squirrel Trap (17"x7"x7")
The single-door Havahart Easy Set trap is made with sturdy hardware and galvanized rust-resistant steel, making it extremely durable and safe to use. Trapping squirrels and other nuisance animals like skunks, wild rabbits, and weasels is now easier, thanks to its Easy Set technology. You only need to place the bait inside the cage and then pull back the lever to set the trap with only one hand.
The sensitivity of the trip plate targets the specific weight and size of the animal, and the spring-loaded door guarantees a safe and instant capture. It also has a robust door lock and rounded internal edges to prevent injuries and keep the trapped animal safe. Plus, the hand guard limits your contact with the animal. The carry handle also makes it easier to transport even large animals.
Professional One Spring Door Squirrel Trap (17x7x7)
Used and designed by professional trappers, this trap is trusted by animal control officers for its durability and excellent performance in catching squirrels, chipmunks, rats, opossums, rabbits, and weasels.
It is made of robust galvanized corrosion-resistant wire mesh. This trap has a spring-loaded door and rounds internal edges to prevent animal injuries. Extensive field testing has proven its efficacy in ensuring fewer escapes and a high catch rate.
Large Spring Two Doors Rabbit/ Squirrel Trap (25"x7"x7")
This live trap is perfect for catching skunks, squirrels, rabbits, and other small animals, especially for beginners as you can set it and release the captured animal with only one hand.
This two-door Havahart Easy Set trap has a durable wire mesh that is galvanized for optimum resistance to corrosion and rust. Small mesh holes prevent stolen bait and escapes.
The trap's sensitive triggers and spring-loaded doors ensure instant captures targeting the size of the specific animal. It also comes with solid handles and doors to protect you during transportation. Furthermore, the smoothed internal edges prevent injuries to the animal. You only need to bait the trap and set it outside your backyard at dusk, which is the perfect time to lure raccoons and other small animals.
Squirrel/Rabbit Lrg. 2 Spring Doors 24x7x7
Another trap from Havahart this one that is suitable for trapping large squirrels, skunks, rabbits, and other nuisance animals of the same size. This is a two-door cage that is designed to trap and keep the animals safe.
It is a humane trap that allows quick, safe, and easy trappings. Designed with durable wire mesh along with reinforcements made of steel and is galvanized to ensure that it will last for a long time.
It has smaller mesh openings unlike other traps, which prevent the animal from escaping and bait from getting stolen. The two doors allow animals to enter using both doors and have a sensitive trigger, which ensures secure and quick capture.
The trap is designed with a solid door and a handle guard that protect the user when transporting the caught animal. All edges are also smoothed which ensures that both the user and the squirrel inside will not get injured.
Frequently Asked Questions
Can you use rat traps on squirrels?
Yes, you can. Snap traps designed for catching rats can be used for removing similar-size nuisance animals like squirrels. Rodents inspecting the bait on the trap will trigger the snap trap, killing them.
What is the best squirrel bait?
The best bait is peanut butter. Squirrels are drawn to nuts and peanut butter is not something they can easily take. It forces them to enter and trigger the trap, making peanut butter the best bait for squirrels instead of a solid bait.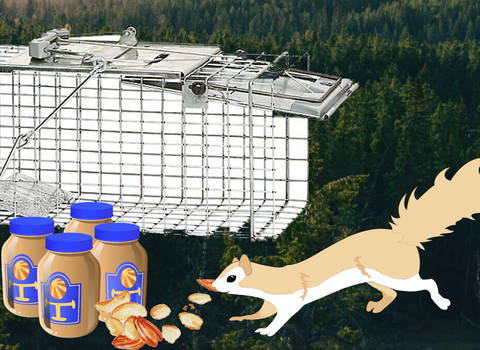 How long do you have to wait before you see results?
It will depend on the squirrel activity in the yard. The best time of the year for catching squirrels is during late spring and early winter. You are also less likely to trap and catch squirrel mothers during this period, separating them from their dependent young.
Where should you place squirrel traps?
Whether you are catching a fox squirrel in a tree or a flying squirrel in the attic, you should place the trap along its normal travel lanes. If they are causing damage to your house, you need to locate a place along walls or fences on which they travel to access your property. And if they visit bird feeders often, you should place traps near such structures.
Traps can also be placed near the tree base where the squirrel lives. When you do catch squirrels, you must relocate them to an area far away from your home. Caught squirrels must be released in wooded areas with a lot of food to eat, so they will not starve.