400g Kilsol, One Solution, Multi Insect Killer
Spend

$99.00

to

FREE SHIPPING
Fast shipping across Canada - Free over 99$
All products are safe for domestic use
Approuved by the Government of Canada
Fully Canadian Owned Business
Support canadian businesses
Kills 22 different types of bugs in 1 solution
Water Based formulation
All angle 360 degree spray action for ease of use
Custom cap with holder for extension tube for precise cracks and crevice

Description

Knock Down™ introduces a NEW revolutionary solution for your in-and-around the house insect control problems.

Actives:
D-Phenothrin       0.20%
Tetramethrin        0.20%

400g Aerosol
Domestic

Bug List

Our new formula KILSOL™, is specially formulated to target and destroy a variety of flying and crawling insects: 

FLYING INSECTS:

Flies
Gnats
Mosquitoes
Hornets
Wasps
Whiteflies
Biting Midges
Small Flying Moths

CRAWLING INSECTS:

 Ants
Carpet Beetles
Centipedes
Caterpillars
Cockroaches
Bed Bugs
Crickets
Silverfish
Earwigs
Mealybugs
Spiders
Fleas.

HOUSEPLANT PESTS:

Aphids
Leafhoppers
Mealybugs
Spider Mites

Applications

DIRECTIONS: SHAKE WELL BEFORE USING. Hold can upright while spraying. FOR INDOOR USE: Do not use in food handling, storage or preparation areas while food is present.

FLYING INSECTS:

Flies, gnats, mosquitoes, hornets, wasps, whiteflies (indoor plants only), and small flying moths

Close all doors and windows and direct spray upward into center of room with slow sweeping motion. Spray 5 to 10 seconds for average room. Direct mist into areas where insects are present. Vacate for at least 15 minutes and aerate before re-entering. Spray around light fixtures. Perimeter/spot application is defined as an application in a wide band or strip around the perimeter of the room or over a small area (2 ft2 /0.2 m2 ). Crack and crevice applications are defined as an application with the use of a pin stream nozzle, into cracks and crevices in which pests hide or through which they may enter a building. Application to upholstered furniture must be limited to tufts and seams or spot treatment.

CRAWLING INSECTS:

Ants, Carpet Beetles, Centipedes, Caterpillars, Cockroaches, Crickets, Fleas, Silverfish, Earwigs, Mealybugs, and Spiders

Contact as many insects as possible with the spray in addition to thorough spraying of all parts of the room suspected of harbouring these pests. Special attention should be paid to cracks, hidden surfaces under sinks, behind stoves and refrigerators, storage areas and wherever these pests are suspected of hiding. To kill ants, treat doors, around window frames, ant trails and other areas of entry. Repeat as required.

BED BUGS: Before treatment, remove all bedding and thoroughly vacuum and air out of mattresses and box springs. Treat mattresses, box springs, bed frames, and headboards, especially tufts, folds, seams and edges of mattress. Take beds apart, spray all joints. Repeat as required. Allow treatment to dry before remaking bed with freshly washed bedding.

FLEAS: Spray animal sleeping quarters and floors around area, but not furniture or carpets that people regularly contact. Remove old bedding and replace with clean bedding after treatment. DO NOT SPRAY PETS.

For insects listed above spray around doorframes and window frames both indoors and outdoors.

HOUSEPLANT PESTS:

Kills Ants, Aphids, Caterpillars, Leafhoppers, Spiders, Whiteflies, Mealybugs, and Spider Mites on houseplants such as Ivy, African violets, Impatiens, Geraniums and Begonias

Hold container 45 to 60 cm from plants being sprayed. Cover upper and lower surfaces of leaves. Avoid wetting foliage with spray. Use short bursts of 1 second for spot application on new growth. Use caution on young plants and new growth. Not for use in greenhouses, vegetable gardens or on food-bearing plants.

*Provide adequate ventilation after indoor use*.
*Do not apply to draperies, wallpaper or similar materials that may be stained.*
*KEEP PETS AND CHILDREN AWAY FROM SURFACE UNTIL DRY.*

Product Safety Data Sheet EN

Product Safety Data Sheet FR

ALWAYS READ THE LABEL CAREFULLY BEFORE USING PRODUCT

Registered in Canada for the uses indicated on the label and can be used safely when the label directions are followed. Health Canada does not recommend, promote or endorse any products.
Hey Canadian shoppers - here at PestSupplyCanada.ca, we hear your plea.

We would love to offer free shipping all across the country, but shipping costs are crazy expensive here in Canada.

The silver lining is that if you order more than 99$ worth of products from us - you qualify for free shipping!

From Newfoundland to British Columbia, we ship across Canada.

We also offer a competitive 60 return policy.
View full details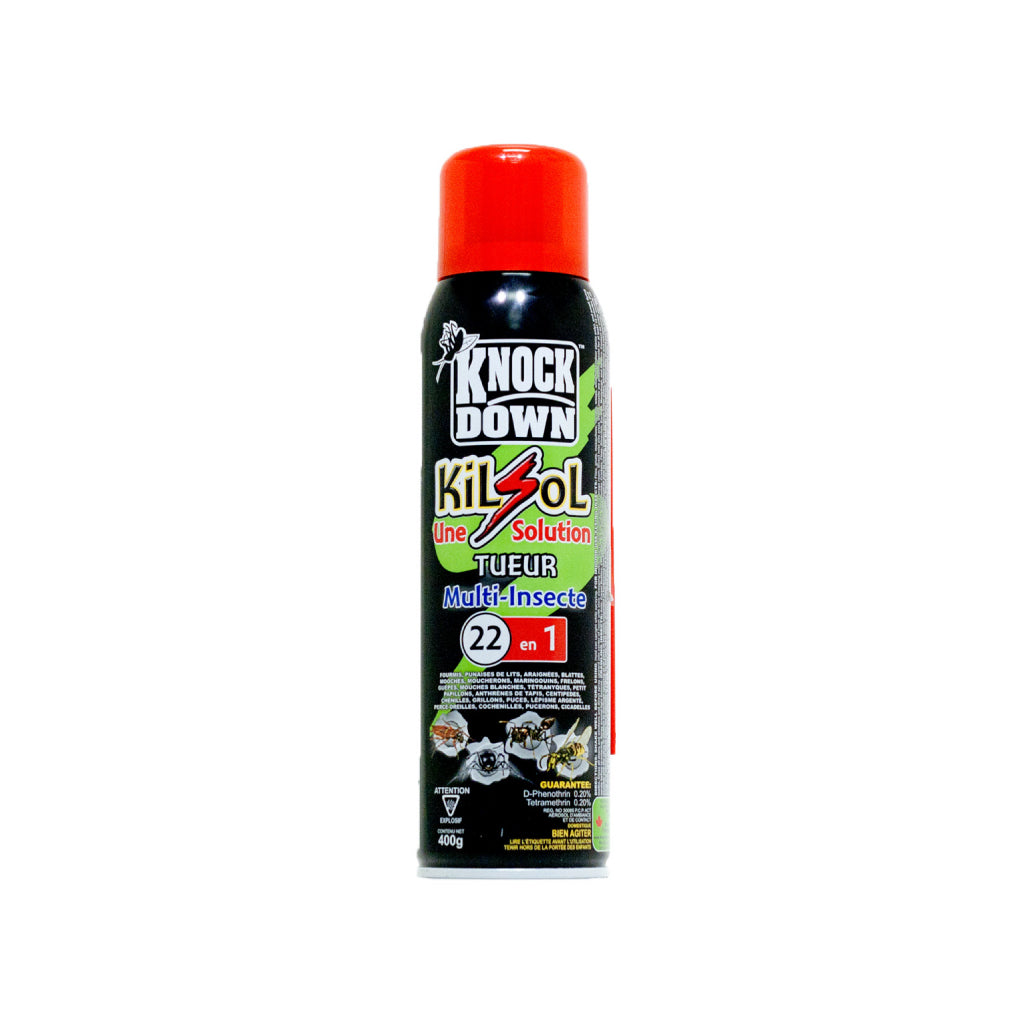 400g Kilsol, One Solution, Multi Insect Killer