Safers Insecticidal Soap RTU 1L
Spend

$99.00

to

FREE SHIPPING
Fast shipping across Canada - Free over 99$
All products are safe for domestic use
Approuved by the Government of Canada
Fully Canadian Owned Business
Support canadian businesses
Use on houseplants, ornamental foliage plants, flowering plants, and fruits and vegetables.

Kills aphids, mealy bugs, spider mites, whiteflies and other soft-bodied insects.

This product does not kill beneficial insects such as ladybugs, praying mantis and others when used as directed.

Insecticidal soap dries out the waxy outer skin of insects.

Can be used up to the day of harvest.

Description

This insecticidal soap from Safer brand kills insects on houseplants, fruits, vegetables, flowers, ornamentals, trees, and shrubs.

Made of selected soaps that have contact insecticidal properties. Apply product as supplied in a trigger spray bottle. Spray when insects are first sighted on buds, shoots, stems, and undersides of leaves.

Once you spray it on any insect, the soap content of the product will kill immediately take effect. This insecticidal soap disturbing the cellular membrane of an insect and at the same removes its protective wax covering. In time, it will dehydrate the insect and slowly kill it.  

Apply weekly for 2-3 weeks and thereafter as required. Insects must be sprayed directly to achieve proper control. Product may be used on fruits and vegetables up to and including the day of harvest. Wash fruits and vegetables before eating.

Please see the label before use to make sure that you will use it accordingly. Make sure that you give it a few days before reapplying. This will help you achieve successful gardening without the use of chemicals.
Hey Canadian shoppers - here at PestSupplyCanada.ca, we hear your plea.

We would love to offer free shipping all across the country, but shipping costs are crazy expensive here in Canada.

The silver lining is that if you order more than 99$ worth of products from us - you qualify for free shipping!

From Newfoundland to British Columbia, we ship across Canada.

We also offer a competitive 60 return policy.
View full details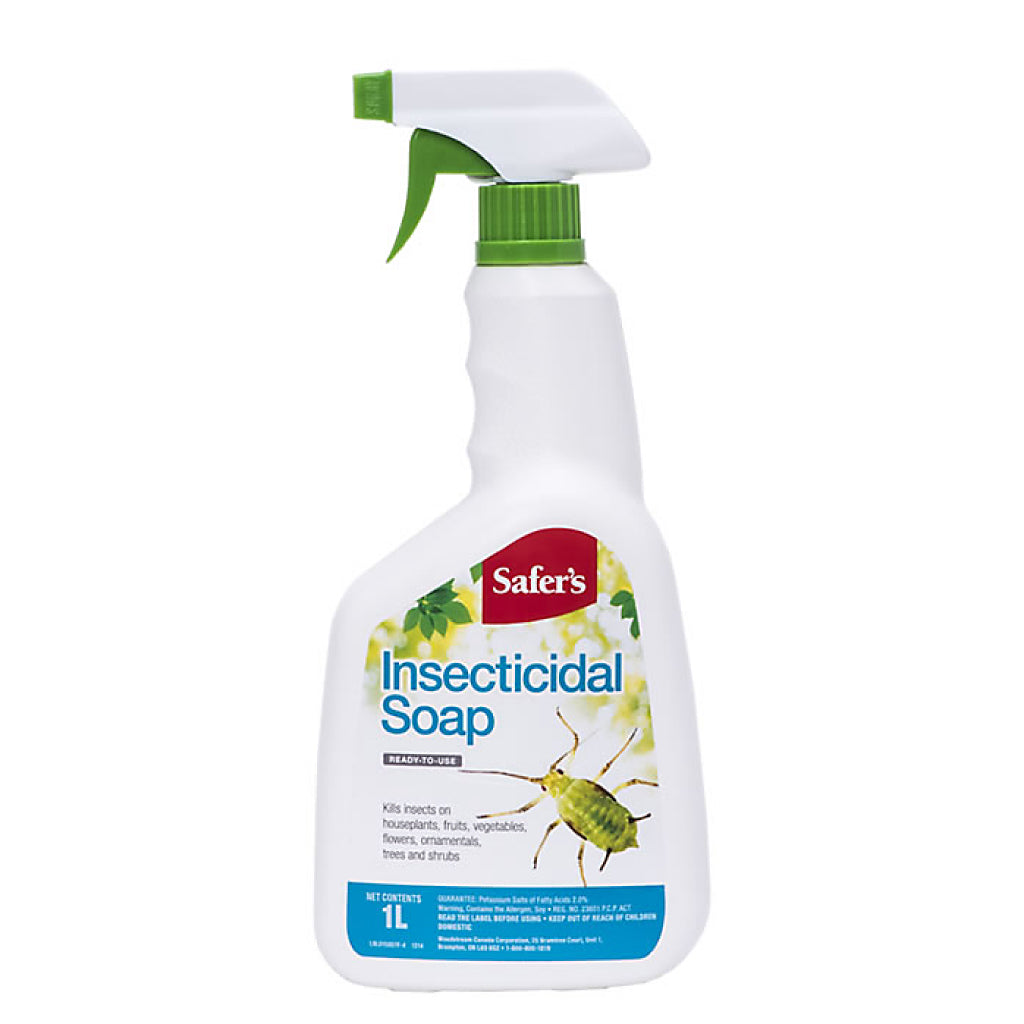 Safers Insecticidal Soap RTU 1L