The Bed Moat 4 pack - Bed Bug Interceptor
Spend

$99.00

to

FREE SHIPPING
Fast shipping across Canada - Free over 99$
All products are safe for domestic use
Approuved by the Government of Canada
Fully Canadian Owned Business
Support canadian businesses
Introducing The Bed Moat: Your Ultimate Bed Bug Defense

Now Made In Canada!

Are you tired of worrying about those elusive bed bugs invading your sleep space? Look no further than The Bed Moat, the professional-grade bed bug interceptor trusted by experts across the globe. Crafted to last with the highest quality fabric tape available, these interceptors are pre-dusted with corn starch for maximum effectiveness.

Don't compromise on quality – get the best monitor on the market at an unbeatable price.

Unparalleled Protection

Each pack includes 4 individual monitors, ensuring comprehensive coverage for your beds. Whether you're a frequent traveler, a dorm dweller, or simply concerned about protecting your home, The Bed Moat is your first line of defense. Placing one under each bed leg, these innovative interceptors catch bed bugs before they can get to you. It's like having a guardian at the foot of your bed, providing early warnings before a full-blown infestation can occur.

How Do Bed Bug Interceptors Work?

The Bed Moat's design is an essential tool in your battle against bed bugs. Here's how it works:

Traps Bed Bugs: The Bed Moat's deep well design lures bed bugs in with ease. As these nocturnal pests attempt to climb up the bed legs to reach you, they become trapped inside the interceptor.

Easy Identification: Thanks to the clear, easy-to-see construction, you'll have no trouble spotting the captured bed bugs. Early detection is key to preventing a full-blown infestation.

Random Placement, Maximum Efficacy: While placing interceptors under bed legs is the most common method, The Bed Moat's versatility shines through. You can also use them randomly by doorways or beside a bed to intercept bed bugs as they move around your space.

Made in Canada - Quality You Can Trust

With The Bed Moat, you can sleep easy knowing that it's diligently protecting you and your loved ones from the horrors of bed bug infestations. Each interceptor is meticulously crafted in Canada, adhering to the highest quality standards in the industry. When it comes to safeguarding your peace of mind, trust The Bed Moat – the bed bug interceptor that's always on guard.
Hey Canadian shoppers - here at PestSupplyCanada.ca, we hear your plea.

We would love to offer free shipping all across the country, but shipping costs are crazy expensive here in Canada.

The silver lining is that if you order more than 99$ worth of products from us - you qualify for free shipping!

From Newfoundland to British Columbia, we ship across Canada.

We also offer a competitive 60 return policy.
View full details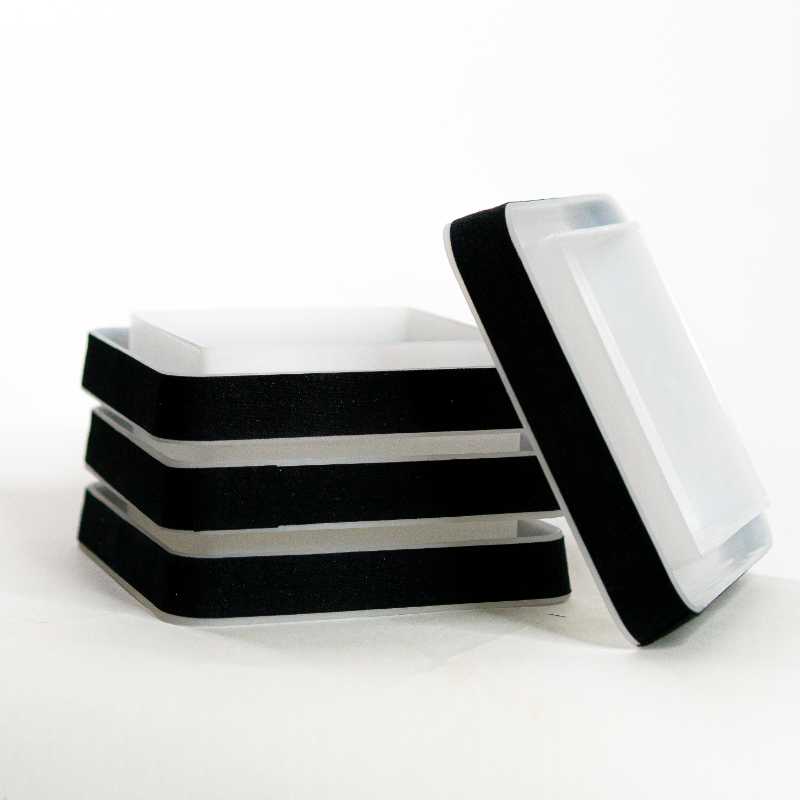 The Bed Moat 4 pack - Bed Bug Interceptor