Yellow Jacket Trap REFILL - 4-week
Spend

$99.00

to

FREE SHIPPING
Fast shipping across Canada - Free over 99$
All products are safe for domestic use
Approuved by the Government of Canada
Fully Canadian Owned Business
Support canadian businesses
Introducing the RESCUE! Yellowjacket Attractant REFILL - Your Ultimate Solution for a Yellowjacket-Free Zone!

TO BE USED WITH the Reusable YellowJacket Trap

How It Works

Are buzzing yellowjackets ruining your outdoor enjoyment? Say goodbye to these uninvited guests with the RESCUE! Yellowjacket Attractant. This ingenious solution is designed to work seamlessly inside the RESCUE! Yellowjacket Trap, offering a safe and efficient way to lure and capture all major species of yellowjackets.

Inside each package, you'll find two vials of our powerful attractant, each lasting an impressive two weeks. Yellowjackets can't resist the allure of this formula. They are drawn to the trap, enter through the strategically placed bottom holes, and then fly or crawl through the specially designed cone. Once inside, they find themselves in a clear yellow chamber where they cannot escape, eventually succumbing to dehydration.

Pet Safety

At RESCUE!, we prioritize safety, not just for you but also for your beloved pets. Our Yellowjacket Traps do not use any harmful killing agents or poisons. Instead, they rely on trapping yellowjackets until these pests expire naturally. You can trust our product to get the job done without posing any harm to your four-legged friends.

However, it's crucial to exercise caution when maintaining the traps. Make sure that any trapped yellowjackets are indeed deceased before handling and rebaiting the trap to ensure a safe and hassle-free experience.

What It Catches

The RESCUE! Yellowjacket Attractant is a master at capturing all major species of yellowjackets. Whether you're dealing with Western, Eastern, Southern, or German yellowjackets, our attractant is up to the task of luring them all into the trap, providing you with comprehensive protection.

Where It's Used

This attractant pack is specifically designed to be used in conjunction with the RESCUE! Reusable Yellowjacket Trap. Whether you're hosting a backyard barbecue, picnicking in the park, or simply trying to enjoy your outdoor space, our Yellowjacket Attractant and Trap combo is the ultimate choice to keep these pesky insects at bay.

Take back your outdoor space and enjoy a peaceful, sting-free environment with the RESCUE! Yellowjacket Attractant. Order yours today and experience the freedom of a yellowjacket-free zone!
Hey Canadian shoppers - here at PestSupplyCanada.ca, we hear your plea.

We would love to offer free shipping all across the country, but shipping costs are crazy expensive here in Canada.

The silver lining is that if you order more than 99$ worth of products from us - you qualify for free shipping!

From Newfoundland to British Columbia, we ship across Canada.

We also offer a competitive 60 return policy.
View full details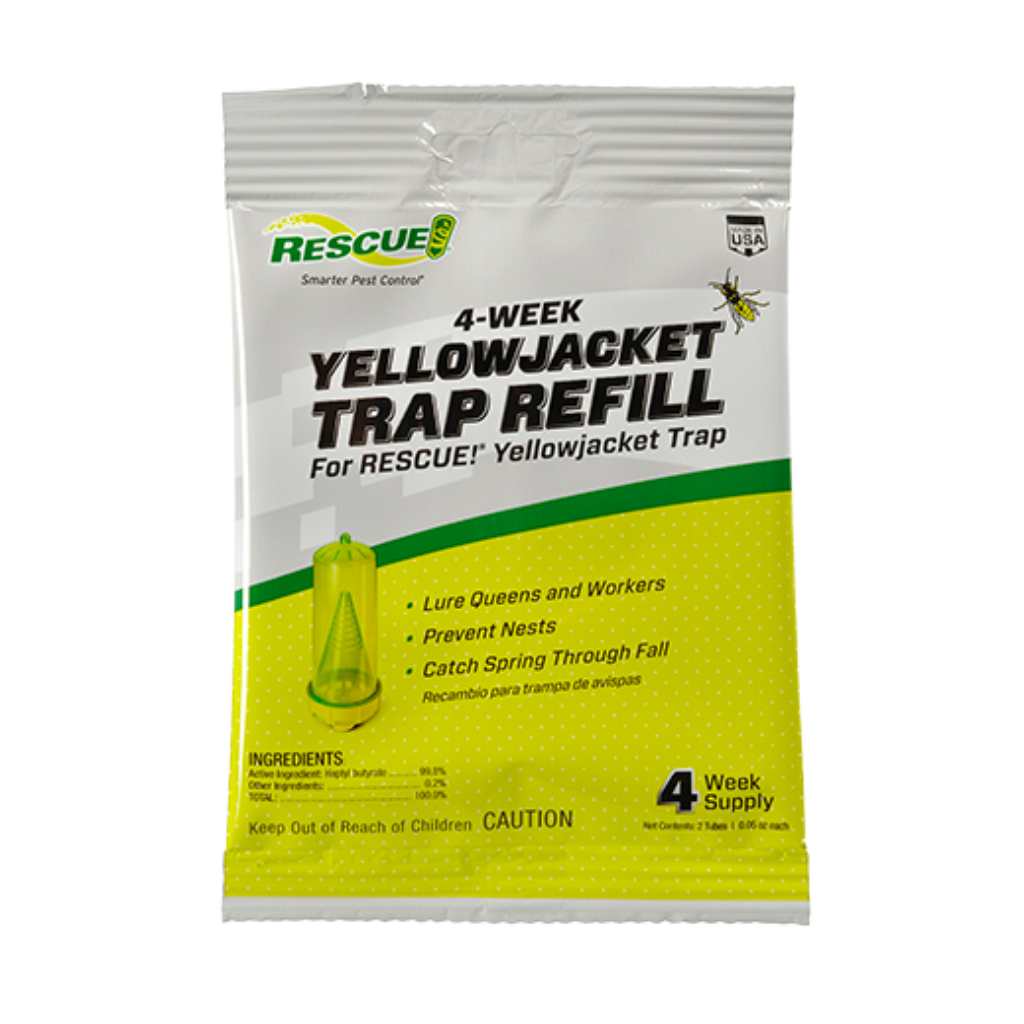 Yellow Jacket Trap REFILL - 4-week